Aerosol spray paints
Spray paints in aerosol cans are becoming more and more popular.
Where did they come from, which one to choose, what are they like and what are their benefits?
History of the aerosol can
In the 1920s, the Norwegian Erik Andreas Rothheim invented the prototype for the modern aerosol can, which was a technological breakthrough in the development of aerosols. Rothheim was looking for the most efficient way to apply wax to skis evenly and found that aerosol spray was the best solution. He patented his invention in 1927. But commercial success came later.
In 1943, Americans Lyle Goodhue and William Sullivan developed a small aerosol can filled with propellant and chemicals to control insect pests. American forces, especially in the Pacific, accepted the innovation positively - about 50,000,000 cans were produced in the other two years of the war.
The spray paint was first developed in 1949 when Sycamore owner Edward Seymour used a spray can of deodorant to demonstrate the aluminium radiator coating in the most effective ways, on the advice of his wife Bonnie.
Benefits of spray paints
Aerosol paints are ready to use immediately. There is no need to dilute them or re-pour them into more convenient containers, just shake the aerosol can well before use.
It is quite easy to spray paints and you don't need any special skills to apply it. However, there are nuances as well. We recommend watching a short instructional video before use.
With spray paints, it is much easier to paint complicated and hard-to-reach surfaces.
Aerosol paint can be used several times. If you do not empty the can, you can simply clean the valve and the actuator so that they do not get dirty when stored longer. Then you can keep the aerosol can for its declared shelf life - the paint will not become unusable. Such an approach is not possible with paint in traditional containers - once opened, it will not be stored for a long time.
Long shelf life. Paints in traditional containers can be stored for 1-2 years, but aerosol cans have a shelf life of 5-8 years. The reason is that the aerosol can is tightly sealed, the solvent does not evaporate, and the air does not penetrate it, so the aerosol paint does not become damaged by time.
Weak points of spray paints
The only weak point is the spray mist during painting. The smallest particles of spray paint spread around the room when applied, so it is important to protect surfaces that you do not paint with a covering material.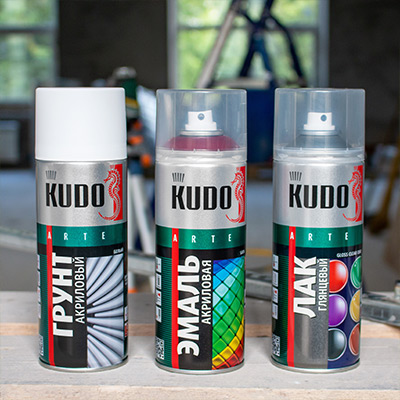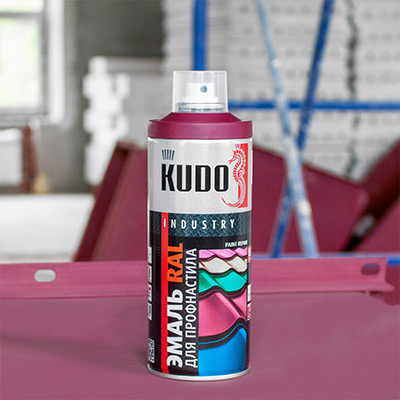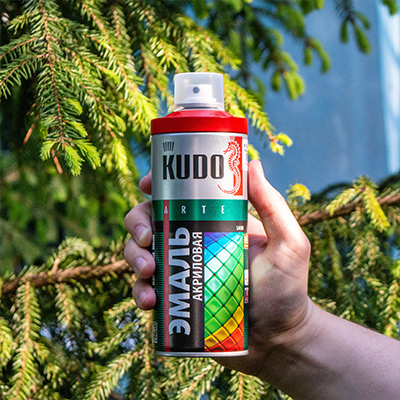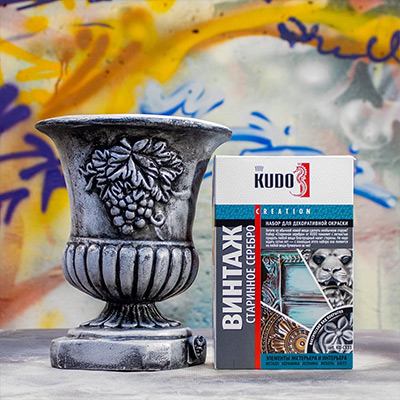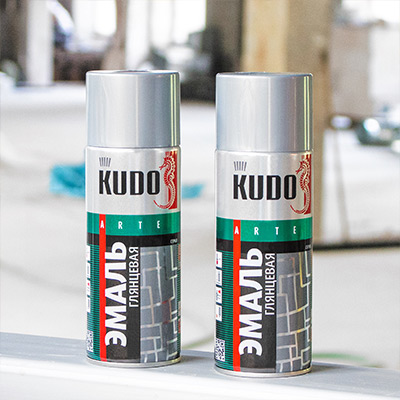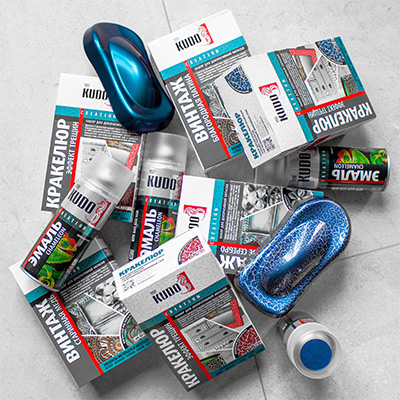 How an aerosol can is designed
The aerosol can consists of a container (1), a valve (2), a tube (3) and an actuator (4). The can is filled with paint (5) and propellant (6). The propellant keeps the can under pressure and, when the valve is pressed, expels the paint through the actuator as a spraying mixture. When the paint is stored for a long time, the pigment of the paint settles to the bottom of the can. Therefore, shake the can well for a few minutes before use and shake it regularly while spraying. Two small metal balls (7) are placed in the aerosol cans to help the paint mixing process.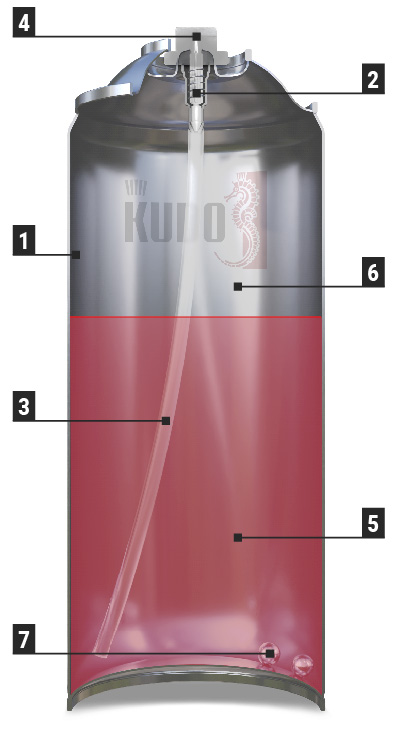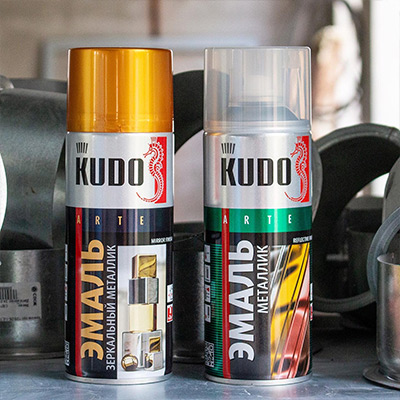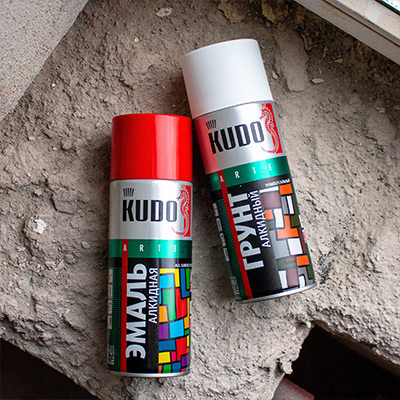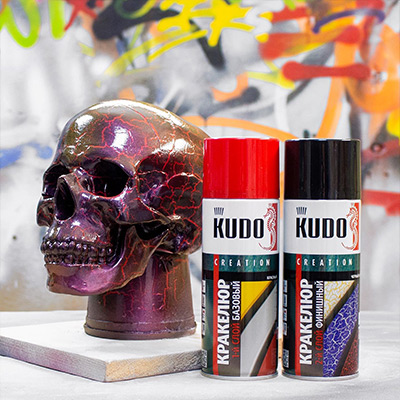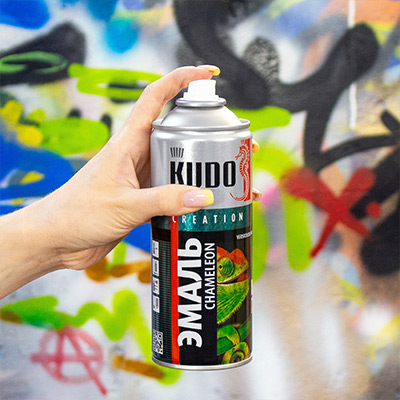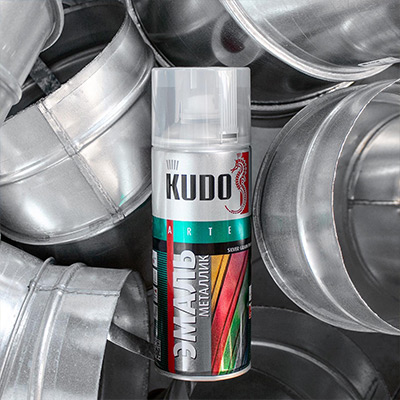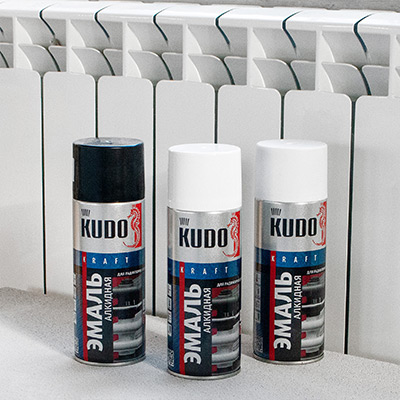 The most spray paints are one-component. There are also two-component spray paints, but they are very expensive and therefore very rare. That is why further we will speak only about one-component spray paints. They can be divided into several main groups according to their base type.
Acrylic
Acrylic spray paints are fast drying (2 hours in normal conditions), have bright, saturated colors, high elasticity and good adhesion to plastics. A variety of acrylic-based aerosol paints are available: ordinary, metallic with leafing and non-leafing pigments, fluorescent, phosphorescent, reflective, with the "chameleon" effect. But acrylics are not as strong as alkyds in their durability, weather resistance and solvent resistance. It is important to clarify the rather common myth that acrylic paints do not smell because they are water-based. Acrylic paints in jars are water-based and they do not smell. Acrylic spray paints, on the other hand, are made with organic solvents so they emit an odor when spraying and drying.
Alkyd
Alkyd spray paints in cans have high adhesion to metals, high hardness, weather resistance, light and solvent resistance. They are very popular and most persistent paints. Alkyd paints do not need an additional varnish coating. Be aware that they have a long drying time (from 5 to 24 hours). In addition, they polymerize in the air within two weeks after application, and during this process the alkyd paint achieves all its properties. There are a few special requirements for alkyd paint spraying. First: every next coating must be applied "wet-on-wet", in other words within 30 minutes to 1.5 hours after the previous coat. Secondly, do not apply alkyd paint in more than three coats. If the coating is too thick, the topcoats will dry and polymerize earlier, clogging the undercoats and not letting them dry and polymerize completely. As a result, the hard coating will quickly crack on to a soft base. Thirdly, do not expose alkyds to strong mechanical influences, e.g., contact washing or polishing, until they are fully hardened. More information about the application and compatibility of alkyd and acrylic spray paints can be found here.
Organosilicon
The most outstanding representative of organosilicon spray paints is the heat-resistant enamel. It withstands temperatures from 400 to 800°C (depending on the color of the pigment) but requires heat curing to achieve this resistance. The hardening temperature may be different and is specified in the product instructions. In any case, the paint should be heated to a high temperature after spraying and drying, e.g., 250°C and should be kept at this temperature for some time. Without heat hardening the paint will not withstand the high temperatures declared. Silicone-based varnishes are also available, they are heat-resistant (up to 250°C) and water-resistant and have excellent adhesion to stone, concrete and bricks. It is not necessary to heat these varnishes.
Таблица применимости аэрозольных красок
| | | | | | |
| --- | --- | --- | --- | --- | --- |
| | | | | | |
| Ferrous metals | Good adhesion | Excellent adhesion | Excellent adhesion | Good adhesion | Easy to remove |
| Stainless steel | Poor adhesion | Poor adhesion | Poor adhesion | Poor adhesion | Easy to remove |
| Aluminum | Poor adhesion | Only with special primer | Only with special primer | Poor adhesion | Easy to remove |
| Wood | Perfect adhesion | Perfect adhesion | Perfect adhesion | Good adhesion | Hard to remove |
| Plastic* | Perfect adhesion | With adhesion activator | Good adhesion | Poor adhesion | Easy to remove |
| Stone, brick, cement | Perfect adhesion | Perfect adhesion | Perfect adhesion | Perfect adhesion | Hard to remove |
| Glass | Only with special primer | Only with special primer | Only with special primer | Only with special primer | Easy to remove |
*In addition to Teflon, silicone, polyethylene and polypropylene.
How to paint from a spray can.
Main types and features of aerosol enamels.